Future of Marketing—Part 1: Forget Everything You Ever Knew About Marketing–It´s All About To Change
It used to be if you were a small business, you were at a distinct disadvantage with your marketing compared to the bigger companies.
No more. Small business owners will actually have an edge over bigger companies thanks to the emerging marketing model.
Yes, you heard right. Emerging marketing model. The old ways of marketing are dying. And a new regime is coming of age.
To understand how marketing is changing, it's important to start with a bit of history. The image most of us have of marketing is based on an old communications model, one that was popular in, say, the 1970s. That was when we had three broadcast networks (ABC, CBS and NBC -- no FOX either) a public station, one newspaper and a handful of magazines and radio stations. Trade magazines and newsletters were few and far between, we had no Internet and no e-mail.
Because consumers had so few choices, it was fairly easy to market to them. Chances were pretty good they were watching, reading or listening to one of a handful of mass media sources.
In fact, to be successful in this marketing model, all you really needed was money.
Here's how it worked. A business created a good product. The business hired an advertising agency. The agency spent thousands of dollars placing ads on the three network television stations and national magazines. Perhaps it also bought a few spots on local radio stations and newspapers. And if the ad budget was big enough, success was practically guaranteed.
There was no mystery to marketing. Mostly it was a numbers game. Spend the money and get a return. Businesses were selling products. Mass media businesses were selling advertising space. Advertising agencies were buying space. Everyone was making money. And everyone was happy.
Fast forward to 2004. Now, instead of three television channels we have hundreds. Instead of a handful of magazines we have dozens, including about a million trade publications. On top of that, we have the Internet and e-mail just begging for a piece of our time.
Never before in the history of communications have audiences been so fragmented. Just finding your customers has turned into that old adage of finding a needle in a haystack. But that's not the only challenge -- even if you do locate your customers that's no guarantee they'll listen to you.
Wherever we go, we are confronted by marketing message after marketing message. It's been estimated that we're bombarded with over 3,000 messages a day...and that number keeps going up. How have we responded? By learning to shut most of those messages out (which of course makes it even harder for marketers to get us to act upon their message).
But the woes of the traditional marketing model don't end there. The Internet has also introduced a little thing called accountability
When you market online, you can track what people are looking at and, even more importantly, where you lost them in selling process. For instance, you can check your Web site stats and see which pages people entered your site and which pages made them leave. You can track what people clicked on in your e-mail campaign or if they clicked at all.
With traditional or offline marketing, you only know if it worked (a customer bought something) or didn't (a customer didn't buy something). You don't know if they saw the ad, read the ad or what happened.
All of this is bad news for those who have built their business on the traditional marketing model. But, it could be good news for you. How? Find out in part two.
Michele PW (Michele Pariza Wacek) is your Ka-Ching! Marketing strategist and owns Creative Concepts and Copywriting LLC, a copywriting and marketing agency. She helps entrepreneurs become more successful at attracting more clients, selling more products and services and boosting their business. To find out how she can help you take your business to the next level, visit her site at www.MichelePW.com. Copyright © 2017 MichelePW all rights reserved.
About Michele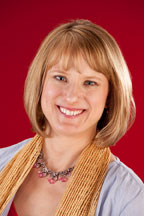 Considered one of the hottest direct response copywriters and marketing consultants in the industry today, Michele PW (Michele Pariza Wacek) has a reputation for crafting copy and creating online and offline marketing campaigns that get results.
Michele started writing professionally in 1992, working at agencies and on staff as a marketing/communication/writing specialist. In 1998, she started her business as a freelance copywriter.
But she quickly realized her vision was bigger than serving her clients as a one-woman-shop. In 2004, she began the transformation to building a copywriting and marketing company.
Two years later, her vision has turned into reality. Michele PW/Creative Concepts and Copywriting LLC is the premiere direct response copywriting and marketing company today, catering to entrepreneurs and small business owners internationally, including the "Who's Who" of Internet Marketing. Some of their clients include:
Ali Brown
Lisa Sasevich
Brian Tracy
John Assaraf
Bernadette Doyle
Alex Mandossian
Kendall SummerHawk
Alexis Martin Neely
In addition, Michele is also a national speaker and the bestselling author of the "Love-Based Copywriting" books that teach people how to write copy that attracts, inspires and invites. She has also completed two novels.
She holds a double major in English and Communications from the University of Wisconsin-Madison. Currently she lives in the mountains of Prescott, Arizona with her husband Paul and her southern squirrel hunter Cassie.