Media Room
Need some information about copywriting? A creative quote about creativity? Then you've come to the right place.
Since my niche is combining marketing and copywriting principles with creativity, I've got plenty of fun things to share. Quizzes, games, fun facts, you name it. My articles have been published in print publications and all over the Web, plus I'm a columnist for both a Web site and a subscription-based newsletter. I've also had experience as a speaker and as both a radio and television guest.
Short Bio –
Considered one of the hottest marketing strategists around, Michele PW has a reputation for crafting promotional materials and creating marketing campaigns that get results. She is a national speaker and author, plus her client list reads like the "who who's" list of Internet marketing.
Long Bio –
Considered one of the hottest direct response copywriters and marketing consultants in the industry today, Michele PW (Michele Pariza Wacek) Your $Ka-Ching!$ Marketing Strategist, has a reputation for crafting copy and creating online and offline marketing campaigns that get results.
Michele started writing professionally in 1992, working at agencies and on staff as a marketing/communication/writing specialist. She started Creative Concepts and Copywriting LLC in 1998 and has never looked back.
Going into business for herself was the best thing she ever did. She discovered a passion for combining her creativity with her writing ability to solve marketing problems for her clients. She's also developed a specialty for online marketing campaigns: from using Web 2.0 traffic strategies to bring a flood of hungry visitors to Web sites, to turning those visitors into actual paying customers.
Now a national speaker and author, her client list reads like a "who's who" of Internet Marketing. She regularly works with national and internationally known consultants, speakers, authors and companies.
Michele has completed two novels, is a contributing author to the Entrepreneur Press Start Up Guide to Information Marketing and has created several home study courses. She holds a double major in English and Communications from the University of Wisconsin-Madison. Currently she lives in the mountains of Prescott, Arizona with her husband Paul and her three border collies, Nick, Maddie and Roxie.
Head shot pictures for the Web / Email campaigns
(Please email us for print quality photos)
Right click the image and choose 'Save Image As' or 'Save Picture As'.



Michele and Nick
144 x 216




Michele PW
144 x 216




Michele PW
144 x 216
Please feel free to contact me anytime.
press@michelepw.com
Phone: 877-7543384 x1 (Hazel - Office Manager)
Press Releases
No sheep, no problem - Marketing Guru Michele PW has a dog that blogs
Marketing guru Michele PW gets a new columnist with more "Barks" than bite
I also write fiction. Learn more here.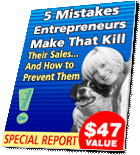 Got a Web site and no sales?
In 30 minutes or less you can quickly and easily pinpoint EXACTLY what's wrong with your site and what you need to do to transform it into a money-making machine!
Click here to learn more.