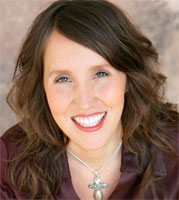 "If there was ever a person who embodied genius internet marketing strategist, talented and creative writer, and woman who really cares about making a difference in this world, and helping her clients do the same, it is Michele PW. When we started working with Michele, we had a tele-class and a digital product, now, with her on our team we have built a 6-figure business in less than 10 months… doing what we love, helping women to stop being so hard on themselves!"

Christine Arylo
Co-founder of Inner Mean Girl Reform School
www.DareToLiveYou.com
Attention: Entrepreneurs and Small Business Owners who want to get their hands on real-world marketing and copywriting solutions that will grow their business THEIR way
Imagine: A FULL Pipeline of Your Perfect, Ideal Clients Who Can't Wait to Invest With You. Your Message Getting Out Into the World in a Big Way. Your Products, Programs or Services CONSISTENTLY Selling and YOU'RE Making a HIGH, CONSISTENT Income
In other words -- Your Business TRANSFORMED!
It's VERY possible -- Read on to learn more!
Just offering good products or services won't cut it anymore.
If you want to succeed in business today, you need to know WHERE to find your ideal customers, WHAT to do to build a relationship with them and HOW to communicate what you're selling so your prospects CAN'T WAIT to do business with you.
And that, in a nutshell, is marketing.
Have you ever wondered why some entrepreneurs are so successful? It's because they not only know how to market to their ideal customers, but, more importantly, they make marketing a top priority.
And that's where the Michele PW $Ka-Ching!$ Copywriting and Marketing Company comes in.
We offer a variety of products and services designed to help YOU get the marketing and copywriting strategies you need to hear $Ka-Ching!$ in your business -- more customers, clients, sales and MONEY. Better yet, at the SAME time, you'll also be getting your message out into the world and into the hands of the people who need it.
No matter where you're at in your business, you can find the perfect marketing solution to fit your specific situation right here. Best yet, we specialize in solutions that make marketing easy and effortless for you.
Lisa Sasevich… Queen of Sales Conversion
So how can we help you?
If you're looking for Done-For-Your Copywriting, Marketing and Social Networking Services, here's where you can check out our services. (Note copywriting is writing promotional copy, nothing to do with copyright law or protecting intellectual property.)
If you want to learn how to do your own Copywriting and Marketing, then check out our products and mentorship programs here.
So what's the first step?
Start by getting your hands on our FREE "Ka-Ching Business Kit" here! (Includes 2 special reports: "5 Mistakes Entrepreneurs Make That Kill Their Sales...And How to Prevent Them" and "Conversion Secrets: 5 Expert Strategies for Turning Leads into Clients.") We'll ALSO send you a FREE CD "5 Psychological Triggers that Turn Prospects Into Clients."Click here to get started.
Get Results Blog
Podcast: Play in new window | Download
On today's episode of PW Unplugged Radio, I was able to interview someone I've been following for quite a number of years — Robert Middleton, Action Plan Marketing.
This is the Year of the Horse in the Chinese Zodiac, which means SPEED. And, I have to say, things are changing REALLY fast here. From big changes to little ones (such as last week finding out one of my favorite Zumba instructors quit unexpectedly, and then yesterday finding out my chiropractor/acupuncturist is closing his […]
This weekend I had some great intentions to get a lot of writing done. Unfortunately that's all it ever amounted to — great intentions. (As in the road to hell is paved with good intentions.) So what happened? Well, the remodel suddenly required a bigger chunk of my time then I expected. I also was […]
Chatting this week on PW Unplugged Radio with Christina Hills about all the reasons why you should NOT outsource your website technical support, got me thinking about this whole notion of outsourcing in general. A lot of folks will have you believe if you own a business, you MUST outsource and hire contractors and virtual […]
Podcast: Play in new window | Download
On today's episode of PW Unplugged Radio, I got to grill my good friend Christina Hills, Website Creation Workshop, on why on earth would you want to build your own website.